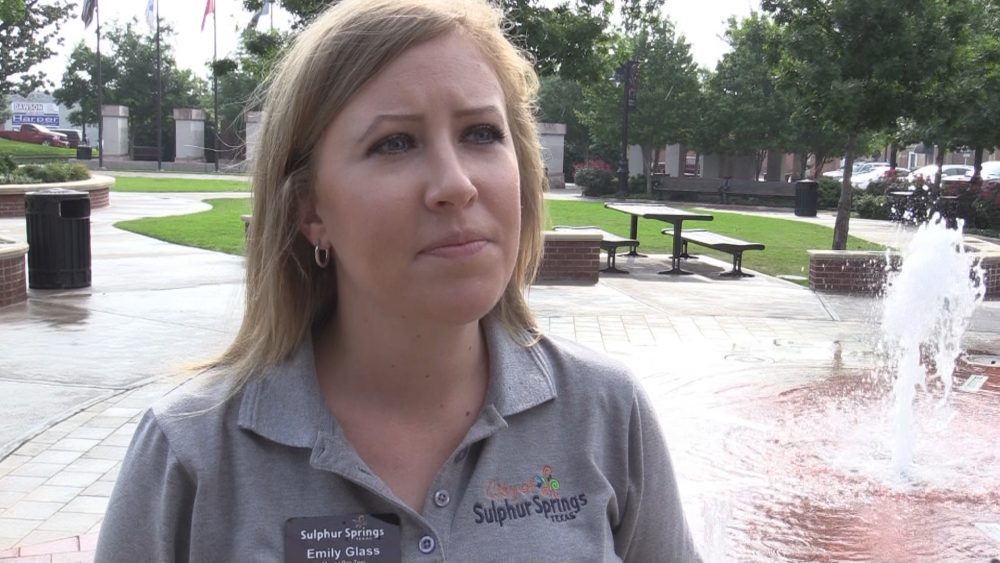 Early voting is underway in the Sulphur Springs City Council Election. Early voting continues through Tuesday, May 4th with Election Day, Saturday, May 7th. Emily Glass, Mayor Pro-Tem urges Sulphur Springs citizens to cast their ballot in the election.
Glass has served three years and is ending her first term on the council. She is seeking re-election to Place Five on the council. Glass told KSST News Friday morning that during her time in office, the downtown area has become self-sustaining and a Tiff Tax has been implemented to pay for the continued maintenance of the downtown area. She met KSST News on Celebration Plaza to talk about early voting and her vision for the city as a council member.  She also stated that starting the long awaited rebuild of Bill Bradford Road is a reminder of the continued rework in Sulphur Springs. Glass told KSST News that the vision for the city's improvement is now extending into other areas of the city, especially the Southside near Interstate 30. She stated that chain businesses and restaurants look for that type of location and improvements are being made that will aid in the development.
Glass has been endorsed by the Hopkins County Law Enforcement Association. She points out that the association is a county organization and does not "have a dog in this hunt." However, she is a strong supporter of law enforcement and that has been recognized.
Early voting will take place in the City Hall Conference Room. Easy access to the board room is available to the handicapped and others with limitations. To access the conference room, use the ramp entrance to City Hall. After entering City Hall from the ramp, the elevator is just inside the door. Take the elevator to the second floor and when you exit, the entrance to the conference room is across the hall. Hours for early voting in the city election are 8 a.m. until 5 p.m. each day.
For City Council Place 4, Charles G. Oxford is challenging incumbent Freddie Taylor.
In the Place 5 race, incumbent and present Mayor Pro-tem Emily Glass is challenged by Jimmy Lucas.
Election day is May 7th when the polling place is open from 7 a.m. until 7 p.m. KSST will broadcast election returns and post to ksstradio.com as soon as they are available.