Chamber Connection by  Meredith Caddell
April 21st by Meredith Caddell

Congratulations on the Ribbon Cutting & Soon-to-be Grand Opening of Snap Fitness
Guests were greeted by the Armstrong children as we entered into the beautiful, state of the art, Snap Fitness.  A healthy snack of cheese, crackers and fruit was served as we toured the Snap Fitness facility!  To celebrate its grand opening, the club is offering a pre-opening special with free enrollment for new members, 10% off of monthly dues for six months, ½ price club access cards, and a free "Snap Fitness" t-shirt.  This promotion is valid through April 30, 2016.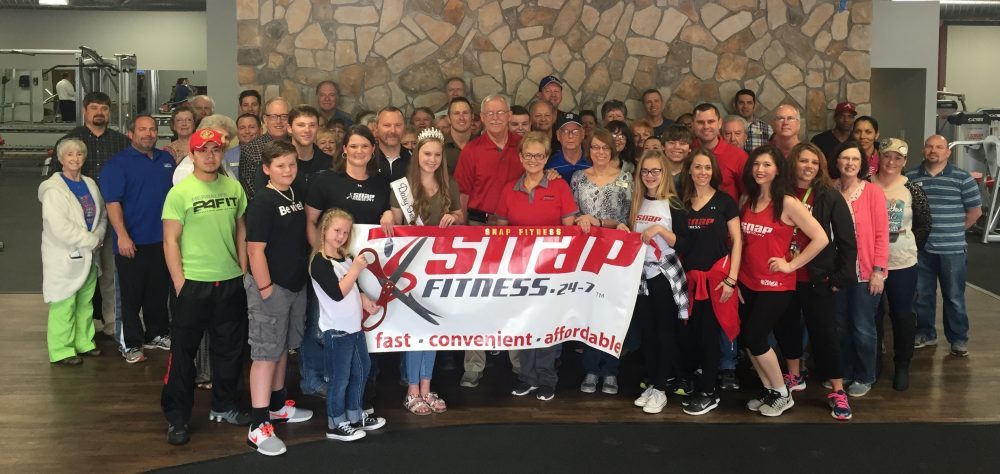 Club Owner, Wes Armstrong, said, "Snap Fitness will be a game-changer for the community as a whole. "Exercise is vital to good health, and our club is designed to help members transform their lives. Being lifelong residents of Hopkins County and raising our families here, our hometown is important to us and we want to make a difference in our community," Armstrong said, "We are ready to open our doors and get started."
According to Co-Owner, Toby Armstrong, the 10,000 square foot club includes: 24/7 access, monthly agreements with no long term contracts, high-quality Cybex  equipment, state of the art 12 minute tanning beds, personal trainers, group fitness classes in a 1200 sq foot air conditioned room….classes include Zumba, Yoga, HIIT, Cardio Kick, and Active Senior (with additional classes being added), free weights, treadmills and ellipticals with individual televisions, showers, lockers, and a children's seating area with a big screen television.  "We hope you will stop in and check out our beautiful new facility and all it has to offer," Toby added.  Snap Fitness is located at 400 Gilmer in SS.   For more information about Snap Fitness–Sulphur Springs and its special offers, please call 903-848-6100.
Poster Contest for all 5th Grade Students in Hopkins County
Deputy Kelly Wiser with the D.A.R. E. program invites all 5th graders in Hopkins County to participate in the Poster Contest, April 23rd!  Topics for the posters may include illegal drugs, tobacco, alcohol, bullying, peer pressure, and/or prescription meds.  All posters must be on poster board and students may use any resources on the poster.  Entries must be submitted by April 23rd at 10:00am at the Sheriff's office, 298 Rosemont Street.  Awards for the best overall posters.  They will also have a free hot do lunch for students.  For questions, please contact Deputy Kelly Wiser at 903-438-4040 or [email protected].
Claws for a Cause Crawfish Boil, Saturday, April 30th on Main Street
Don't miss the 3rd Annual Claws for a Cause Crawfish Boil, hosted by the Sulphur Springs Rotary Club.  The event will be Saturday April 30th beginning at 5:30pm on Main Street.  All you can eat crawfish & fixins until it's gone!  Live Music from the Zydeco Stingrays.  Tickets are available online on FB: Claws for a Cause for $25 in advance and $30 the day of the event.
Treat your Mother to "Bright Lights of Broadway"-NETCS Spring Show-May 7th & 8th at the ROC.
The North East Texas Choral Society presents a spectacular Broadway review. This concert features a brand new venue and a show like they've never done before, complete with a new accessibility to our audience and dessert and coffee for all. Join the North East Texas Choral Society for this extraordinary concert, highlighting Broadway favorites, outstanding soloists, and surprises around every corner.  The shows will take place at The ROC, 115 Putman Street in Sulphur Springs, Saturday, May 7th at 7:00pm
Twogether in Texas Marriage Education Workshop
The next session will be held on Saturday, May 21, from 8:30 a.m. to approximately 3:30 p.m. at the Hopkins County Extension Office.  The workshop is free and engaged couples will receive a certificate to save $60 upon applying for a marriage license.  Topics covered will be marriage expectations, communication, conflict resolution, money management, and goals & dreams.  Lunch and refreshments will be provided by local businesses.  Please call 903-885-3443 to reserve seats.
Up, up and away… 57th Annual Hopkins County Dairy Festival's Balloon Rally and 5k Milk Run
This year's chip timed race will be held on Friday evening, June 10 at 7:00pm. Imagine running down a country road, on a beautiful summer evening in Hopkins County, beneath a sky filled with colorful balloons. This unique family event features an out and back course that begins and ends at the balloon glow and launch area! Stick around after the race and enjoy the amazing sights and sounds of 30 brilliantly colored balloons and live entertainment from the main stage. All runners 18 years and older will have their bib numbers entered in a drawing for a ride in a hot air balloon on Saturday evening, June 11th. All winners will be announced on Friday night after the run.
Mission:  To raise community awareness and to salute the hard working dairy farmer and their families who have contributed so richly to our economy and to the quality of life in Sulphur Springs. Proceeds from the Milk Run directly support the youth scholarship programs of 57th Annual Hopkins County Dairy Festival.Want to WIN a ride in a Hot-Air Balloon? Just register for the 2016 Milk Run on June 10, 2016!  All registered participants, 18 years and older, are automatically entered into a random drawing for a Hot-Air Balloon ride on June 11th! (Weather permitting) Register now at www.hopkinscountydairyfestival.com
We would like to welcome our newest members to the Chamber of Commerce:
Pestco Services-Termite & Pest Control
Hwy 19-South, P.O. Box 246
Sulphur Springs, TX 75482
903-733-7151
Sammy Barton
Snap Fitness
400 Gilmer Street
Sulphur Springs, TX 75482
Erica Armstrong
903-848-6100
Fitness Center
Chris & Missy McClure
703 Texas Street
Sulphur Springs, TX 75482
806-681-7768
Real Estate
Merle Norman Cosmetics & Boutique
212 Davis Street North
Sulphur Springs, TX 75482
Gay Bailey
That's all for now…have a GREAT week!