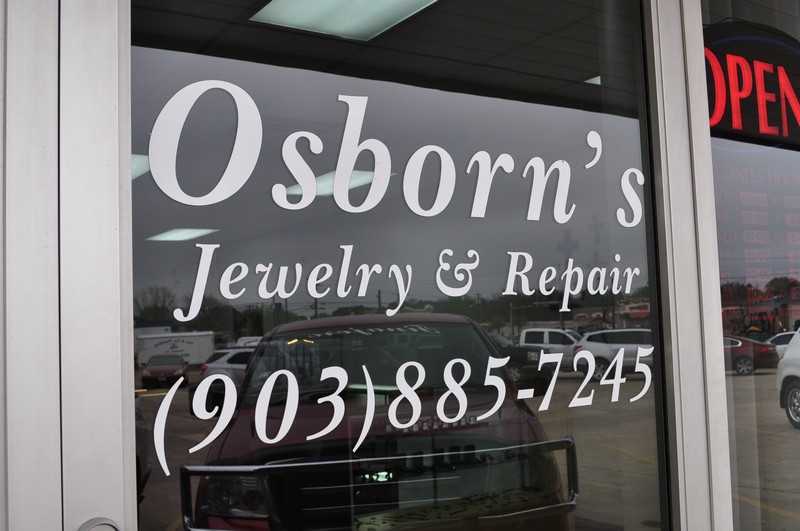 Trudy Osborn found her first job in a jewelry store called Gold Connection in Sulphur Springs' Windsor Plaza Shopping Center. She learned on-the-job about jewelry repair from owners Betsy and Jerry Whitson, who were also her in-laws. Her apprenticeship ended when she moved back to the Metroplex, and it was quite a few years later when Trudy Osborn decided to open her own shop.
In 2001, Trudy returned to the Windsor Plaza Shopping Center and opened the doors of Osborn's Jewelry. Knowing that diamonds are the first choice to mark a milestone, Trudy filled her cases with traditional diamond settings to the black, cognac, and chocolate diamonds. If you are shopping for a wedding set, you can choose a semi-mount or a dazzling finished solitaire. Trudy also offers loose diamonds and stones of all kinds for wedding rings and anniversary creations. Men's wedding rings come in precious metals like gold and platinum to contemporary metals like titanium, tungsten, and stainless. Men will also find nugget-style jewelry and gold rings with diamonds. Popular gift selections are dazzling pendants with matching earrings. "If I don't have what the customer wants, I can get it. If I can't get it, I'll make it," says Trudy. Custom design is another huge aspect to her business. Bring your dream of the perfect ring, brooch, pendant or bracelet, and she can create it for you. The estate jewelry cases hold pre-owned pieces from vintage, classic and retro, to silver and turquoise. Trudy also does professional jewelry repair, and watch and clock repair. Through the years of our lives, there are many times that only a special piece of jewelry can make just the right statement. For those times, let your choice be made at home, at Osborn's Jewelry in Sulphur Springs, a family owned and operated business.
Osborn's Jewelry is located at 101 Bill Bradford Rd. Suite 7 in Sulphur Springs, Texas. Osborn's Jewelry is open Tuesday through Friday from 10-5 p.m. and Saturday from 10-4 p.m. They can be reached at 903-885-7245.