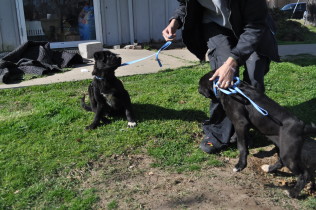 Butch and Sundance are two three-month old male puppies. Butch is a black pit bull mix while Sundance is a black Spaniard mix. Neither are siblings, but have been friends since arriving at the Animal Shelter.
"Sundance came first on February 9, and Butch came after that the next day," Animal Shelter Officer Barbi Blanch said. "Butch came from the Lincoln Square Apartments, and Sundance came from the Spanish Villa Apartments. They became kennel mates because they were both male and about the same age."
Neither puppy has been claimed, which means both are up for adoption. It was because of their almost immediate friendship that the Animal Shelter Officers chose to name them Butch and Sundance when trying to think of cute male names for the puppies.
"Butch is the more wilder one, but believe it or not, Sundance is the more aggressive one," Officer Blanch said. "They don't fight at all, but it's always Sundance getting on Butch. I guess he's telling him he's had enough"
They have received their first round of puppy shots and are scheduled to receive the next round soon. Both puppies almost had an issue with Parvo, but were able to come out safe and healthy.
"Because of issues with Parvo, we keep them together and they're doing good," Officer Blanch said. "For a minute, we thought that Sundance might have issues, but we got them both vacinated and he's fine now. He was under the weather for a day or two and now he's bounced back."
Both puppies will be at the off-site weekend this Saturday, March 5 from 11 a.m. to 4 p.m. The Shelter will not be open during the off site adoption.