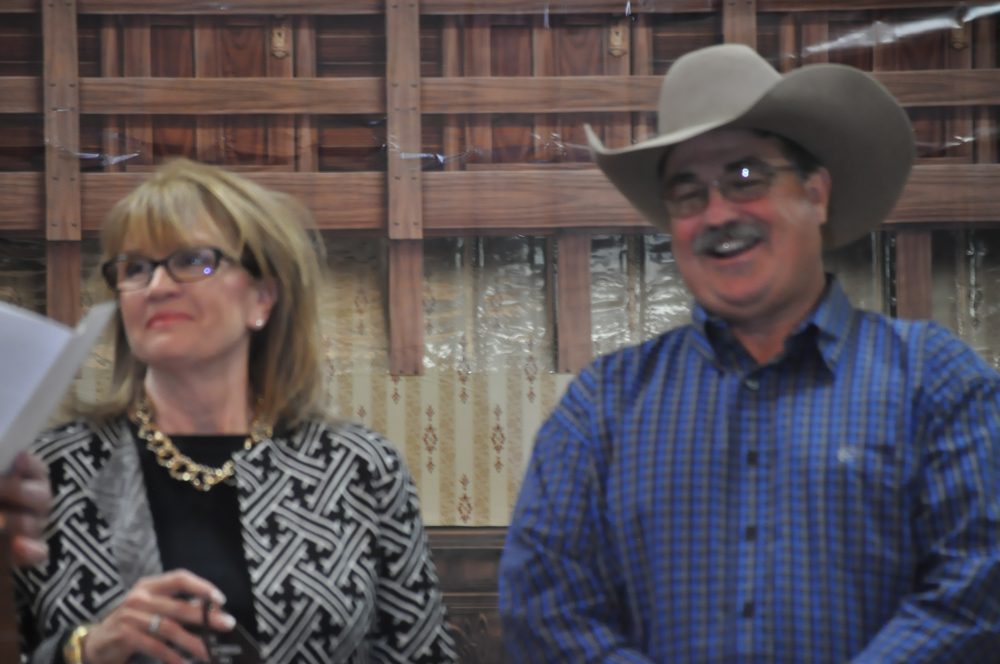 Hopkins County Professional Ag Workers presented the 2015 Agriculturalist of the Year Award to the Hare Family Farms. Junior and Martha Hare, posthumously and Mark and Debbie Hare, who continue the tradition of the family farms, were named by Gary Spraggins, a member of the Ag Workers group, during the 90th Annual Hopkins County Chamber of Commerce membership banquet Thursday night at the Regional Civic Center.
Junior and Martha Hare began a dairy in 1953 on 76 acres. In this barn they sold Grade B milk. A few years later the built their first Grade A dairy barn. The family operation grew to include dairy barns at three sites on 1100 acres. Today they still operate Hare and Hare Dairy in Hopkins County. Wayne Foster has been employed by this family for 43 years and manages the daily work as well as being a loyal friend.
They also run a beef cattle operation. Mark raises and shows cutting horses. the Hare Family Farms is in its 63rd year of operation.
They were active in community service being a part of establishing rural water. Spurred by the need for water for dairies and other rural residents, Martha, in 1968, had a hand in chartering the North Franklin Water Supply Corporation. Chartered in July of 1969 and six months later, January 1970, water began flowing to rural customers.
Junior served on the Southeast Area Council of Dairy Farmers of America Board and Martha served in his spot after his death in April 2001 while at the Dairy Farmers of America meeting in Knoxville, Tennessee, and then she was elected to three more two-year terms on the board. From this board, she was appointed to the Dairy Max Board.
Mark and Debbie have also been active in service to the community. Mark served 18 years on the Rivercrest ISD Board of Trustees and was President for five years. Debbie helped organize the Rivercrest Education Foundation whose purpose is to raise funds and award scholarships for RHS Seniors.
In 2014,Martha was honored as the Grand Marshal of the 55th Annual Hopkins County Dairy Festival and led the Dairy Festival Parade.