Tira News
By Jan Vaughn
We want to express our sympathy to Patti Wiebold in the loss of her brother, Barry Miller, of Dallas. Please remember the family in your prayers.
Sherry Smiddy shared an invitation from Cross Spur Cowboy Church to "come out and join the fun" at their "Sweets for you Sweetie" auction on February 14th at 10:30 a.m. All proceeds will go to the youth group.
Kim and Lee Beck spent the long weekend in Austin and the surrounding area, visiting with Jason before he leaves for Navy Flight School in Pensacola, Florida. She said that Fredericksburg was fun, Enchanted Rock was a challenge, and Luckenbach was a nice visit with the gentleman that married them "in that crazy little town." She adds, "We did not see Willie, darn it!"
The North Hopkins School Homecoming games are scheduled to begin at 6:00 p.m. on Tuesday, February 2nd. Make plans to come out and cheer on the teams and see the crowning of the homecoming queen.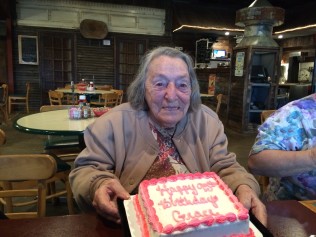 Grace Vaughn turned 95 on January 18th. Her daughter, Linda Ellen Vaughn, spent the weekend and her birthday with her. On Saturday, the 16th, Jim and Sandra Vaughn came from Broken Bow for a visit. They took Grace and Linda to the Dip Net in Sulphur Springs, where they met Tim and Lori Vaughn, John Vaughn, and Chip and Jan Vaughn for an early birthday lunch. Charlie Vaughn was working and unable to meet the group, and other activities prevented daughters-in-law, Linda and Susan Vaughn, from participating in the celebration.
I always need and appreciate input from my friends to help keep me informed of news in our community. If you have any news pertaining to Tira residents, past or present, please contact me, Jan Vaughn, at 903-945-2190 or 903-438-6688 or [email protected].