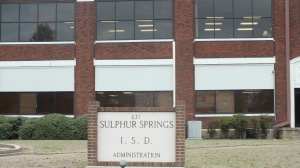 According to Rusty Hardin, SSISD Communications Director, Sulphur Springs Independent School District will hold a public hearing on Monday, February 8, 2016 at 6:00 pm for the purpose of discussing the Annual Report of Educational Performance and the Texas Academic Performance Report (TAPR) for the 2014-2015 school year.
The public hearing will focus on District Accreditation, Campus Performance Objectives, information on violent or criminal incidents will be discussed. Also, information on the performance of previous year graduates in their first year of college based on the state board's report. 
Hardin says the TAPR is like a school report card. It is always one year behind as the Texas Education Agency gathers and reviews material for the report. 
The hearing will be held in conjunction with the regularly scheduled meeting of the Board of Trustees. The meeting will be held at the administration building located at 631 Connally St., Sulphur Springs, Tx. 75482.