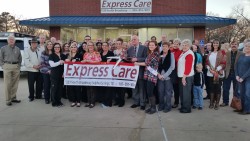 Combining humor and the serious, Memorial Hospital CEO Michael McAndrew welcomed the public to an open house and ribbon cutting Monday afternoon for Express Care, an Memorial health clinic established on the south side of Sulphur Springs in what was once the Radio Shack building. McAndrew stated his confidence in the Express Care staff as he pointed out those utilizing the services would receive both good care and speedy care at the Broadway Street location.
Express Care will welcome patients Tuesday. Dr. Darrel Pierce, Colbie Cross, PA-C, and Kalee Kirk, PA-C will rotate seeing patients on-site. Hours of operation will be Monday-Saturday 7 a.m. until 7 p.m. and Sunday from 9 a.m. until 4 p.m.
Following McAndrew's comments, a Chamber of Commerce Ribbon Cutting. Then, KSST's Doug Haston with camera was given a tour of the facility. The tour not only featured each room but also procedures that would be performed in the room.