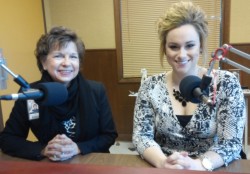 Kalee Kirk, Physician's Assistant and Sherry Moore, Director of Marketing at Memorial Hospital were guests on the Good Morning Show with Enola Gay to talk about the new Express Care urgent care clinic. Since opening on January 7, the clinic has seen an increasing flow of patients including 21 on the first Saturday of operation. Kalee, PA Colby Cross and Dr. Darrell Peirce are seeing patients seven days per week, treating everything from colds and flu to minor injuries, and offering x-rays and lab in-house.
Although Express Care does not file claims for Medicare and Medicaid patients, those can be seen with cash payments. Express Care does honor the insurance and employer programs which Memorial Hospital honors, as well as all other cash patients.
Express Care at 1339 South Broadway is open from 7am til 7pm Monday through Saturday and open from 9am until 4pm on Sundays. To phone Express Care, call 903-951-1001.