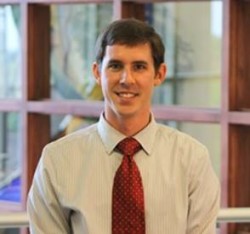 Dr. Robert Cooper will be joining the Hopkins County Memorial community this summer. Dr. Cooper, a graduate of the Texas Tech University Health Sciences Center School of Medicine, will practice family medicine locally. Dr. Cooper chose Sulphur Springs based on his connection to the Northeast Texas area. He was recently featured in an article published by the American Academy of Family Physicians.
In October, Dr. Cooper's father, Blake Cooper, was named Superintendent of Commerce ISD. He begins his new work in January. Blake Cooper had been an assistant superintendent at Kaufman ISD and principal at Edgewood High School prior to that. Superintendent Cooper was a teacher/coach at Winnsboro, Garland, Sulphur Springs, and Sheldon and also an instructor coach at East Texas State University.
Dr. Cooper, a graduate of Edgewood High School, graduated Tech's medical school in three years. As a member of the inaugural class of the Family Medicine Accelerated Track program at Tech, he has already begun his residency one year sooner and received a scholarship for at least one year of medical school.  The accelerated program encourages students to enter family medicine in a move to increase the number of primary care physicians in Texas.
For Cooper, the move into family medicine had been his target for medical practice long before entering med school. While in high school, he began observing Dr. Brent Wade, then a family physician in Winnsboro. Although Dr. Wade now practices in Tyler, he has continued to encourage, guide, and mentor Cooper. Dr. Cooper has already agreed to practice family medicine in Sulphur Springs after his training in Family Residency Program at Tech's Amarillo Health Sciences Center.
Although completing his degree in three years, through the accelerated program he has had more curriculum hours than the required hours for a four year student. During his third year, Dr. Cooper did complete rotations in internal medicine, OB/Gyn, psychiatry, surgery, and pediatrics, courses usually covered in the fourth year of med school. Those in the Tech program complete residency at sites in Lubbock, Amarillo, and the Permian Basin in West Texas.