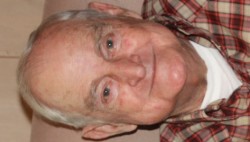 Graveside funeral services for James "Jim" McClary, age 87 of Dike, will be held at 10:00 a.m. on Saturday, January 2, 2016 at Nelta Cemetery with Bro. Shane Carrington officiating.  Visitation will be held on Friday, January 1, 2016 from 4:00 to 6:00 p.m. at Murray-Orwosky Funeral Home.
James "Jim" passed away on Thursday, December 31, 2015 at Hopkins County Memorial Hospital.  He was born on September 13, 1928 in Brady, TX the son of John Wesley and Edna Slaughter McClary.  He married Wanda Allen on February 17, 1951 in Carlsbad, NM.  She survives.
James "Jim" graduated from Hondo H.S.  at the age of 16 and entered into the Air Force at age 17.  He spent three years of his service in Japan, serving as Staff Sargent.  After his service career, he moved back to Black River Village, NM, where he met Wanda in June of 1950.  He was working for McKay Tile from there he was manager for Tom Bush Motors until 1960.  He then bought a farm and was a farmer in the Pacos Valley until December 24, 1980, when he moved to Dike, TX and bought and ran a dairy farm until his retirement.
In addition to his wife, he is survived by his daughter, Margarett McDonald and husband, Raymond; four grandchildren, Jennifer Stanley and husband, Jordan, Elizabeth McDonald, Katelyn McDonald and Wesley McDonald; one great-grandson, Jase Stanley; sister, Imojene Shephard and husband, Martin of Carlsbad, NM and several nieces and nephews.
He is preceded in death by his parents; sisters and brothers-in-law, Lorine Burkham and husband, Enis and Florine Cannon and husband, Harold and brother and sister-in-law, Winford McClary and wife, Jean.