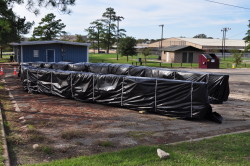 Work will begin soon on the Pavilion project in Buford Park. The city had been awaiting delivery of beams to use for the project and they are now at the location. City Manager Marc Maxwell stated a new manufacturer had been secured and the beams have been delivered. The original proposed supplier went out of business due to bankruptcy prior to delivering the product needed.
Maxwell said the foundation work is ready to begin in the next few weeks. Bar-H Construction has donated the labor to build the foundation with concrete supplied at a reduced price by Bell Concrete. S & S Commercial Services will construct the pavilion. Grocery Supply has donated $75,000 to the project.  
Maxwell expects the project to be completed prior to the end of the school year.