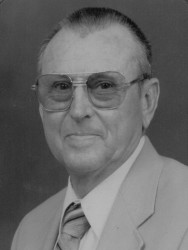 Funeral  service for Herman "Bud" D. Bryant, age 88, of Emory, will be held
11:00 am
,
Wednesday, Nov. 25, 2015
at the Church of Christ in Emory.  Visitation will be held one hour prior to the service, at
10:00 am
, at the church.  Burial will follow in Emory City Cemetery.
Mr. Bryant died
Sunday
afternoon, Nov. 22, 2015, at Hopkins County Memorial Hospital, in Sulphur Springs.
Mr. Bryant was born July 24, 1927, in Point, to Henry Andrew and Helen Easter Ely Bryant.  He served his country, in the U.S. Army, where he received a Victory Medal.  He was a medical technician during his time in the army.  He worked in electronics at Ratheon in Greenville, from where he retired after more than 30 years. Mr. Bryant married  Vonnie Bullard, earlier in life.  After her death, he married Barbara Rogers.  He was a member of the Church of Christ in Emory, Emory City Council, Lyons Club and he was active in the Emory Volunteer Fire Dept..
Survivors include 5 sisters:  Katherine Waldrop and Joy Horrocks, both of Emory, Evelyn Dean Paddock of Yantis, Shirley Norris of Miller Grove, and, Helen Barker of Sulphur Springs. Numerous nieces and nephews. Also, other loving family and friends.
Preceded in death by:  parents, 1st  wife, Vonnie Bullard Bryant, and 2nd wife, Barbara Rogers Bryant; 1 brother, Earl Bryant; and, 1 sister, Patricia Bryant Bennett