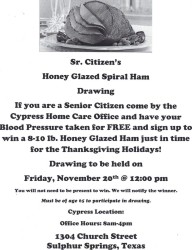 Cypress Home Care is inviting all Seniors 65+ to come by and see them at their office at 1304 Church St. here in Sulphur Springs.
Have your blood pressure checked and sign up to win the 8-10 lb. Honey Glazed Spiral Ham.
The Drawing will be held on
Friday, November 20th at 12:00 PM 
Just in time for the Thanksgiving Holiday.  .
You do NOT need to be present to win.    They will notify the winner.  Cypress Home Care is always thinking about our seniors and wanted to do something special for the Seniors of Hopkins County.
Bring your spouse and friends 65+ and enter them in the drawing, too.
Their office hours are
8 AM until 4 PM
Good Luck everyone..
Karon