Dr. Steven Tallant and State Representative Gary VanDeaver have been selected to receive the coveted Paris Junior College Distinguished Alumni Award during the 2015 Homecoming festivities, November 13-14.
It is such a distinct honor to have the opportunity to honor Dr. Tallant and Dr. VanDeaver," said PJC President Dr. Pam Anglin. The two will be presented the College's highest honor during the Distinguished Alumni Awards Luncheon, Saturday, November 14 at the Love Civic Center.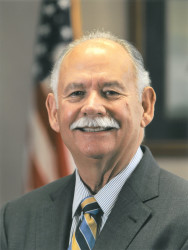 Dr. Tallant, who currently serves the 19th President of Texas A&M Kingsville (TAMU-K), graduated from PJC in 1969. Rep. VanDeaver, a retired public school superintendent, just completed his first session of the Texas Legislature as State Representative for District 1; he attended the College 1977-1978.
Upon graduation from PJC, Tallant enlisted with the U.S. Navy and served until 1973. He enrolled at the University of Florida in Gainesville, completing his undergraduate degree in sociology and going on to earn his MSW in social work at the University of Utah, Salt Lake City, in 1977 before entering the United States Air Force in 1978. During his 20-year military career, he obtained his Ph.D. at the University of Wisconsin-Madison in the field of social welfare in 1985.
Tallant's military service included stateside and foreign postings and he completed his last assignment at the Pentagon in Washington, D.C. as the Chief of Air Force Family Research. After retiring from the Air Force in 1994, he began his career in academia with the University of Wisconsin-Eau Clair and has held numerous leadership roles, including professor, vice chancellor, and provost.
Since becoming President at TAMU-K in 2008, Tallant also graduated from the Governor's Executive Development Program through the Lyndon B. Johnson School of Public Affairs at the University of Texas, Austin.
During Tallant's first six years as president, the University experienced a 54 percent increase in enrollment and a 44 percent increase in research expenditures. He received key appointments by TAMU System Chancellor John Sharp to the TAMU System Office of Sponsored Research Services Advisory Board, and was appointed to the Education Workforce Task Force in Corpus Christi by State Representative Todd Hunter.
Tallant's skills have benefited the Executive Committee for the Texas Council of Public Universities Presidents and Chancellors and he is a past chair of the Lone Star Council of Presidents. He serves as a member of the Off-site Review Committee for the Southern Association of Colleges and Schools Commission on College. Tallant has been credited with new construction and renovation of existing structures at TAMU-K, financing $108 million in capital improvements. He has received multiple honors for his community service, humanitarian efforts and leadership efforts since arriving in Kingsville.
"Paris Junior College is the cornerstone of my 12 years spent as a student in public higher education," said Tallant. "Academically, it prepared me for a future and life that I never imagined possible as a young man growing up in Paris, Texas. My values, ethics, aspirations, and love for learning were all heavily influenced and shaped by my role models at PJC. I am forever grateful for my time spent at PJC and feel blessed by the experience."
VanDeaver grew up on a working farm and ranch in Red River County and graduated from Clarksville High School in 1976. After his time at PJC he earned his B.S. and M.S. degree in agriculture/education from East Texas State University as well as his Ed.D. His first teaching role was as an agriculture science teacher in Avery ISD. He served as principal in Avery and Rivercrest ISD before being named superintendent of Rivercrest, a position he held for eight years before taking the reins at New Boston ISD where he served 10 years. His career in education spanned 33 years.
During that career, VanDeaver also served as an adjunct professor in Public School Law, Public School Finance, and School Data Analysis at both Texas A&M University campuses in Texarkana and Commerce.
A strong proponent of gun rights, Van Deaver is a member of the NRA and has served on the Board of Directors of the Texas FFA, Red River County Farm Bureau, Bogata Rodeo Association and Red River County Fair Association. Additionally, he served as president of the New Boston Lions Club and director and past president of the New Boston Chamber of Commerce.
In this past legislative session, Van Deaver served as a member of the House Committee on Public Education and the House Committee on Appropriations, which is charged with the important responsibility of writing the state budget. House District 1 includes Bowie, Franklin, Lamar and Red River Counties. He and his wife Pam, also an educator, have been married 32 years and have two adult daughters, Kacey and Katelyn.
This year marks the 91st homecoming celebration for Paris Junior College. In addition to the luncheon, a number of festivities are planned to commemorate the College's service to this region.
For more information regarding the Distinguished Alumni Award luncheon or other homecoming activities, please contact Derald Bulls, Director, Institutional Advancement/Alumni Affairs, at (903) 782-0276 or by email, [email protected].