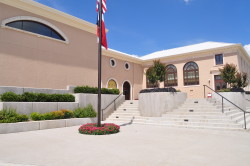 Thursday, October 8, 2015  – Donna Rudzik, Gloria Mitchell and Polly Swatsell, the 2015-2016 Lights of Life Campaign chairs, will welcome guests to enjoy afternoon "Sassy Classy" tea at the beautiful City Hall.  Emily Glass will be the guest speaker.  While the ladies enjoy afternoon tea Emily will share proper  "High Tea Etiquette".  Sitting and enjoying friendships seems to be a social event that has been lost due to the hectic schedules of today's fast paced high tech world.  Hopefully the afternoon tea will allow some "down time to be still" and enjoy those friendships.  Michelle Idzi of Idzi Bitsy Bakery will provide the delicious afternoon treats and Danna's Florist will provide the special touches that will make the afternoon memorable.

Funds raised through the afternoon tea will go toward the 2015-2016 campaign goal of $250,000.  As we continue to raise funds to help purchase cutting edge equipment, that not only benefits the hospital but the community, the funds raised through the 2015-2016 campaign will be  used to purchase;
Six LUCAS CPR devices for EMS which will provide the EMS Department the tools and abilities they need to improve survival rates during cardiac arrest. The LUCAS CPR provides consistent and quality chest compressions without the need to stop compressions to perform other clinical procedures.  
And additional funds will be added to the Foundation "Leaving a Legacy" Endowment Fund.
For more information about the 2015-2016 Lights of Life campaign and gala and mini-events, please call the Health Care Foundation office, 903-438-4799.  We hope you will join us as we work hard to make a difference for the hospital and the community.