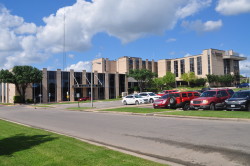 One surveyor said that she liked seeing the compassion of the employees for the patients. That was one reply given by the CMS (Centers for Medicare and Medicaid Services) survey team that concluded a full book survey of Hopkins County Memorial Hospital Wednesday. The three day survey was initiated Monday following an infection control complaint made to CMS. That complaint was found invalid and unfounded but the investigation team offered to do a complete survey which is to be conducted every four or five years. The hospital accepted the offer.
Five years ago when the survey was completed, the report stated that Memorial was one of the best hospitals around. This week's survey listed a few discrepancies. Michael McAndrew, CEO at Memorial, said "Almost everything was fixed by last night." The other corrections should be completed before the end of the week. When all are completed, it will be another five years before a survey team returns according to McAndrew.
Due to the presence of the survey team, some surgeries had to be canceled as the team surveyed the surgical equipment. The full book survey focuses on infection control, patients' rights, and psych patients. The local hospital does not have a psych ward, thus that segment of the survey was not conducted.
Infection rates at the local hospital are very low. McAndrew stated that all hospitals are faced with infection control issues. He is pleased with the response of the hospital team as they keep those rates very low locally.
Several years ago when the survey became mandatory for all hospitals, Memorial chose to use CMS for the surveys because, as McAndrew told KSST News, they created the survey and they do the survey for free. There are specific companies that do the full book survey but those charge for the work.