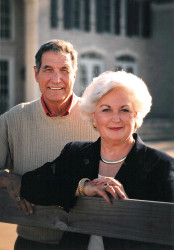 Ruth Ann and Gene "Bebes" Stallings are the honorary co-chairs to lead the 2015 Paris Junior College Annual Fund Campaign.
The fund raising effort, called "A Tradition of Giving," is scheduled to kick off in the coming weeks. Now in its third year, the 2015 campaign goal is $200,000.
"We are so grateful to the Stallings for accepting the leadership of the Annual Fund Campaign," said PJC President Dr. Pam Anglin. "They epitomize what it means to have a servant's heart and have given so much of themselves to numerous worthwhile causes in our community and across the world."
Anglin also expressed her appreciation to 2014 Annual Fund chair, Dottie Thielman, for the success enjoyed in last year's effort.
"Dottie is such a treasure to PJC as a graduate and former Dean of the college," said Anglin. "Through her efforts alumni, friends, businesses and foundations responded with gifts totaling $144,156.
"We are grateful to each donor, large or small, who helps to perpetuate the future of Paris Junior College. Of the total given in 2014, PJC Faculty and Staff gave 12.5 percent. Already pre-campaign faculty and staff gifts total $17,250 with more contributions expected."
In addition, a number of planned gifts and endowments have been established. Some gifts were directed toward existing endowments to assist students today and into the future, and gifts were received from the East to the West Coast representing graduates from 1939 through 2012.
Gifts during the campaign allow donors to designate their monies to one of three areas: 1) unrestricted gifts which could be used immediately for the College's greatest needs; 2) scholarships through the PJC Memorial Foundation; or 3) designations to the Master Plan for PJC.
"In our opinion," said the Stallings, "education is the key to a better quality of life. We are happy to serve as co-chairs for raising funds for Paris Junior College to benefit the students, faculty and college."
Ruth Ann is a 1955 PJC graduate. She and her husband, Gene, a Texas A&M University graduate, returned to their Lamar County roots following his long and successful coaching career in college and professional football. Both continue to receive accolades for their humanitarian efforts in serving others, and are active members of Lamar Avenue Church of Christ.
Named as a PJC Distinguished Alumnae in 2012, Ruth Ann was involved in many activities while attending PJC. She was a member of Phi Theta Kappa, the National Junior College Honor Society and the Pen Chat Study Club.
She served as assistant editor of the student newspaper, "The Bat," and was a member of the PJC Band. She also earned honors as the Junior Business Woman, Student Council Representative and Homecoming Queen.
Both Ruth Ann and Gene are much sought after speakers and dedicate much of their time and energy in faith-based endeavors. The two were high school sweethearts and married in 1956.
Gene, known as "Bebes" to many, was a member of Coach Paul "Bear" Bryant's Junction Boys while playing football at Texas A&M University. His legendary career led him to not only play under Bryant, but coach alongside him and later coach against him when Stallings was head coach of the Aggies. His efforts carried him to be a part of the Dallas Cowboys coaching staff under Tom Landry and later he served as head coach of the Saint Louis and later Phoenix Cardinals.
Stallings' passion for college football led him back to Tuscaloosa, Ala. where he led the Crimson Tide to a national championship. He was inducted into the elite College Football Hall of Fame in 2010 and named a Distinguished Former Student of Texas A&M in 2000 as well as being recognized with numerous honors.
Together, the Stallings say their greatest accomplishments are their five children and all their grandchildren. Daughter Laurie Stallings Vanderpool and her husband, Dr. David Vanderpool, have established a hospital, clinic, orphanage, church and outreach in Thomazeau, Haiti in which all the family has been integrally involved working to aid those in need.
If you are interested learning how you can assist students at PJC or wish to make a contribution to the Annual Fund or learn how you can make a planned gift to the College, contact Derald Bulls, Director, Institutional Advancement/Alumni Affairs, at (903) 782-0276 or [email protected].