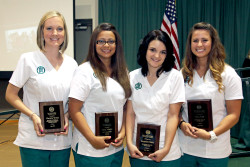 Paris Junior College's Heath Occupations Department held award and pinning ceremonies and handed out certificates to sixty-three students in vocational nursing May 14 in the Hunt Center.
The Hopkins-Nicholas Award for outstanding performance in both classroom and clinical training went to Christin Walsh of Greenville. The award for highest grade point average was shared by Jacqueline Davis of Paris and Nizzia Tubb of Sulphur Springs. Alma Morris of Sulphur Springs received the Metamorphosis Award for exhibiting the most growth through the entire vocational program.
Perfect attendance awards went to Tate Anderson, Takeva Dean, Kaity Edwards, Addie Elliott, Billie George, Colleen Halcomb, Darla Kelly, Jamie Leavens, Mona Lisa LaMoure, Jennifer Menge, Daley Phifer, Nizia Tubb, and Jaycee Wilkerson.
Graduate vocational nurses and their hometowns are:
Como: Laree Anglin
Cooper: Tate Anderson and Daylee Phifer
Dike: Jamie Leavens
Point: Ana Camacho
Sulphur Bluff: Jamie Goldsmith
Sulphur Springs: Ashten Boatman, Karri Butts, Liz McFarland, Jennifer Menge, Alma Morris, Karen Normandeau, Lauren Owsley, Colby Parker, Madison Penny, Renee Semler, and Nizia Tubb