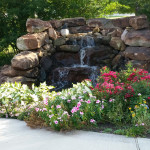 The Gardens at Memorial – On Thursday, May 14th, 6:00p.m. – 7:00p.m. The Health Care Foundation will host their 6th Annual "Music in The Gardens" event.  The primary purpose of "Music in The Gardens" is to encourage the community to "STOP & smell the roses".  Relaxing in a quiet place, listening to wonderful music, and enjoying friends and family has proven to release stress.  "We want to invite the community to join us as we just sit still and relax for a little bit" said Jackie Thornton, Foundation Director.  Richard Shanks will provide the peaceful music and there will be the special recognitions.
 Drew Sant, approached the Foundation inquiring of there was something he could do for either The Gardens at Memorial or the Lights of Life Campaign for his Eagle Scout project.  It was decided that since the Foundation lost their resource for park benches, it would be helpful if he would build five benches that have be designated in memory of loved ones.  Drew was excited about the project and took it to the Scout Master for approval.  Once approved, Drew started to work building and re-staining all the benches in The Gardens "We are thrilled that Drew selected The Garden benches as his Eagle Scout project. The Gardens seems to be the ongoing perfect Scout project.  When we first built The Gardens, I was able to get Cub Scouts to plant flowers for their service badge, then as the years have gone bye, the Cub Scouts have re-stained the benches several times.  It's wonderful to see young kids giving back to the community through their Scout projects," stated Jackie Thornton, Foundation Director.
The Foundation will also acknowledge gifts received in memory of Walter Reeder, an HCMH volunteer and Betty J. Wood, a special friend.  Trees in The Gardens were dedicated in their memory.
Walter, a loyal hospital volunteer, was remembered by the HCMH Volunteer Auxiliary and Betty was remembered by her aquatic, Tai Chi, and Healthplex at Memorial friends.  "We are thankful for these thoughtful gifts given in memory of special friends", said Thornton.
On, Wednesday, May 13, 2015, 11a.m. – 1p.m., in celebration of Hospital Week, Memorial Hospital will be hosting an Employee Appreciation Picnic in The Gardens at Memorial.  "Foundationetts" (hospital volunteers who promote the Health Care Foundation) will be hosting their annual 8th Cake Walk.  Hospital employees have a chance to win or purchase delicious baked goods.  For a $2.00 donation they can walk to win or if they're not feeling lucky; cakes, pies, brownies & cookies may be purchased.   The money raised from the cake walk will be used to purchase an ice machine for the Plaza Conference room in the Memorial Plaza building.