Chamber Connection
April 28, 2015 by Meredith Caddell
Grand Opening & Ribbon Cutting for Best Western Trail Dust Inn & Suites, Friday, May 1st at 5:00
Please make plans to join us for refreshments, music and door prizes, this Friday from 5-7 at the Best Western Trail Dust Inn & Suites! They are located at 152 Shannon Road, E. in Sulphur Springs. It has been a long haul since the fire, but they are up and going and would like for everyone to stop by on their way home from work and check it out!!!
Correction to Latson's Ribbon Cutting
My apologies…the food for the ribbon cutting at Latson's Grand Opening was catered by Birthwright Bar B Que!
Thank you to all who attended the ribbon cutting for Autumn Grace S'Mall. It is located one mile north of the Mahoney Exit on 19N. The owners lost their home to a fire December 26, 2014. They have combined three stores, Dreams to Reality – Prom and Bridal Resale Boutique; New and Renew – Thrift Shop; and Basic Bread and Beyond – Homemade Goodies. These are non-profit organizations to raise money to help people who are in desperate situations overcome and move forward.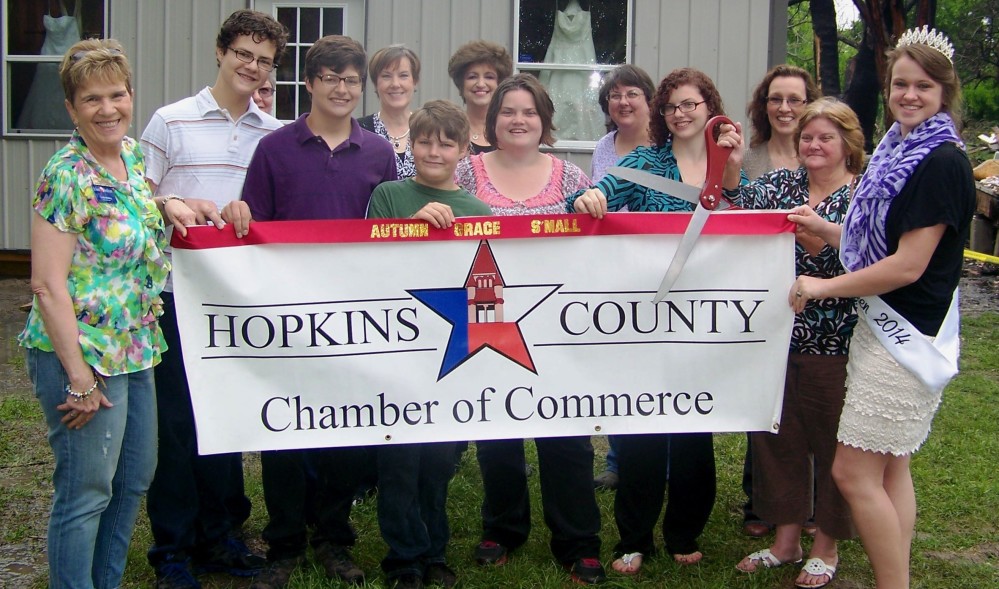 Don't miss the NETX Choral Society's Spring Show…Rock! Pop! & Doo Wop!!! May 2 & 3
The North East Texas Choral Society presents a walk down memory lane with a jukebox full of oldies.  In costumes depicting the 50s through 70s, 100 voices celebrate the music from your youth.  Join the North East Texas Choral Society for the fun and nostalgic concert. Attending a live performance of any kind is a unique experience in and of itself. When you visit a NETCS concert, your gift is hearing rich, quality choral arrangements presented by 100 voices in an artistically designed manner that allows for an exchange with the audience.​ This interaction of performance and reception gives life to music in a way no recording can. Expect to lose your breath with the melody. Prepare to connect with the music. Watch for surprises! The concert will be Saturday, May 2nd at 7:00pm and Sunday, May 3rd at 2:00 at the Hopkins County Regional Civic Center! Special Guest Appearance from Hannah Kirby!!!
Midnight Riders hosts the 2nd Annual Illness Rally, May 2nd
The Midnight Riders will host a poker run, balloon toss, darts, slow race, weenie bite, tennis ball pickup, dunking booth, barrel race and more. They will have lots of great food and merchandise vendors, great games and lots of prizes. Entry for the rally is $15 for one person and $25 for two people. This year, the rally will benefit Trina Hill, a 47 year old wife and mother with cervical cancer. She is travelling back and for the Dallas for treatment. While she is undergoing treatment, she is unable to work and they are trying to help cover bills and travel expenses. The event will be held at Highwayman Ink, 1783 Hwy 19S. The rally begins at 10am. For more information, call 903-975-2726.
Saturday, May 2nd Watercolorists from all over will be painting in Sulphur Springs!
Thirty-six artists from the Southwestern Watercolor Society will spend Saturday, May 2 painting outdoors all over Sulphur Springs and Hopkins County.  They will focus their creative eyes on everything from the newly restored City Hall and Hopkins County Courthouse, to the picturesque churches, homes, and businesses that make Sulphur Springs a destination for the artistically inclined.  Participating artists invite the public to come by City Hall between 5:00 and 6:00 pm on Saturday, May 2 to see what they have done.  The work will be for sale that evening only.   This gathering of watercolorists is just the latest evidence of an artistic renaissance sweeping the country called plein air (pronounced plain air) painting—working outdoors instead of in a studio.  The plain air artist finds an interesting outdoor subject, sets up an easel, and paints the scene on site and in one sitting.  The result is a fresh and honest record of a specific time and place.  According to B. Eric Rhoads, publisher of Plein Air Magazine, "The movement is on fire, exploding with events, exploding with painters, exploding with sales of paintings and with galleries taking plein air painting seriously."
Nationally recognized, award winning artists will turn out from 50 to 75 paintings in one day all focused on Sulphur Springs and vicinity.  One of the artists, Cecy Turner, was featured in Southwest Art Magazine as an Artist to Watch in 2006 and has since been a finalist in several National Park art competitions.  She says "Painting on location on a regular basis has opened many doors for me.  I cannot improve nature, but I can rearrange and simplify it to correspond to what I feel."  Ron Bigony from Longview has a painting of the Sulphur River in the current issue of Plein Air Magazine.  He says, "My reason for painting is to catch the mood and mystery of a place and time.  I am moved by the sounds of geese in flight for the winter, an old cornfield with crows and owls, or a dilapidated barn or house long deserted in a farmer's field." For more information please call Walt Davis 903-886-2711
Ribbon Cutting for Silver Cactus Emporium Antique & Craft Mall AND Gospel Opry, May 13th at Noon
Please come celebrate with Buddy and Ina Gore as we host their ribbon cutting for the Silver Cactus Emporium Antique & Craft Mall as well as the Gospel Opry!  Whether you need space for a family get together, birthday party, music show, anniversary party…the sky is the limit.  They have facilities that include tables & chairs.  concert auditorium that will seat 150-200 people comfortable, sound system and lights. Then, the Silver Cactus Emporium is 3000 Square Feet shopping area with booth space available for rent.  This is a great opportunity for you to showcase your items without having to have your own store front!!!  The Gospel Opry hosts a show every first Saturday with different artists.  All of this is located inside the VF Factory Outlet Mall on the Strip Suite #25.  For more information, please call 903-951-1405 or 903-885-4262.
Rotary Club Spelling Bee Dinner & Auction, Thursday, May 7th at SS Middle School Cafeteria
Make plans now to attend the 10th Annual Rotary Club Spelling Bee Dinner & Auction Thursday, May 7th at the Sulphur Springs Middle School Cafeteria! The doors open and auction viewing begins at 5pm. Serving begins at 5:30 with the program and spelling bee starting at 6:30pm. Tickets are only $10 and are available from any Rotary Club Member at the Sulphur Springs News Telegram. All proceeds will be distributed to local charities and for scholarships.
Don't miss the Hamburger Cookout benefiting Heritage Christian Counselling Center-May 8th
The Heritage Christian Counselling Center will be holding their annual hamburger cookout on Friday, May 8 from 11:00 a.m. until they sell out of burgers.  $5 buys a burger, chips, drink, and dessert.  It will be held at the parking lot between the First United Methodist Church and the Alliance Bank corporate office, across from the City National Bank drive through.  All proceeds go the counselling center.  Call 903-438-6829 for more information.
Twogether in Texas Marriage Education Workshop
The next session will be held on Saturday, May 9, from 8:30 a.m. to approximately 3:30 p.m. at the Hopkins County Extension Office.  The workshop is free and engaged couples will receive a certificate to save $60 upon applying for a marriage license.  Topics covered will be marriage expectations, communication, conflict resolution, money management, and goals & dreams.  Lunch and refreshments will be provided by local businesses.  Please call 903-885-3443 to reserve seats
May 14, 2015 – 6th Music in the Gardens, 6-7p.m. – Join us as we STOP and enjoy God's peaceful beauty while listening to music and visiting w/friends and family.
Are you Divorced or Separated? Divorce Care can Help!!!
Divorce Care is a weekly seminar and support group that will help you heal from the hurt. It's a warm, caring environment led by people who understand what you are going through. You will learn practical information that will help you deal with the challenges of divorce. Best of all, you will gain hope for the future. They meet every Sunday from 9:30-10:30 at First United Methodist Church. For more information, please call Shelia Lunsford at 682-557-2702
We would like to welcome the following members to the Chamber of Commerce
HENLY LAND & HOMES, INC
1500 W. Interstate 30
Sulphur Springs, Tx 75482
Lacy Shirley
903-885-7060
Mobile Home Sales
CENTURY 21 FIRST GROUP – JANA DODD
1067 Gilmer, Suite A
Sulphur Springs, Tx 75482
Jana Dodd
Independent Real Estate Agent
GRANNY'S DONUTS & COOKIES & MORE
862 Gilmer Street
Sulphur Springs, Tx 75482
Sara & Kevin (Bosharacam Frondarina)
Donuts, Cookies & More
AUTUMN GRACE S'MALL
5947 TX Hwy 19 North
Sulphur Springs, TX 75482
Sarah Thompson
Thrift Shop
That's all for now…have a GREAT week!