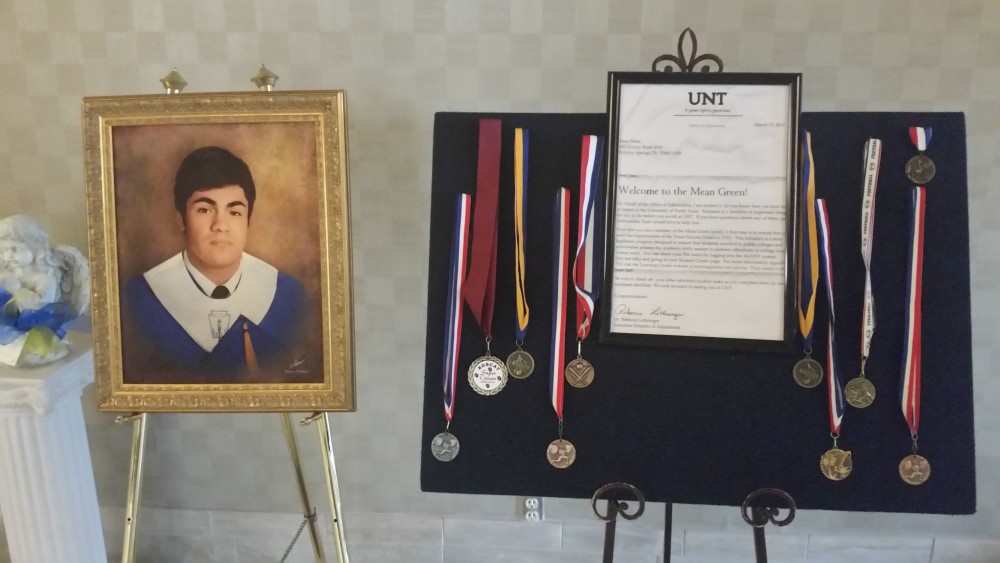 Family, friends, fellow students, team members, band members, SSISD administrators, high school teachers and staff, school board members, and many others, a majority wearing Sulphur Springs High School colors, filed past his portrait, his medals won, his letter of acceptance from the University of North Texas, and a Green Bay Packers jersey. On the stage, his varsity letter jacket, and variegated flowers stood in remembrance. The brief yet full life of 18-year old Isaac Antonio Perez was remembered and honored during memorial services in the Regional Civic Center Wednesday afternoon.
The Perez family wore athletic wear shirts in Wildcat colors with Perez and number 60 on the back of each. His Wildcat football teammates and Wildcat Band members were honorary pall bearers. Wildcat Offensive Center Landon Watkins, Lineman Jesse Ortiz, Alex Gamez, along with Gustavo Ramirez, Adrian Perez, Christian Perez, Angel Perez, and Anibal Perez were pall bearers. The Wildcat band would play his favorite song along with the school's alma mater. Jeff Harris, Wildcat Team Chaplain and history teacher at SSHS, and Pastor Jose Pacheco conducted the service with their words translated into Spanish and English. Other speakers included Wildcat Head Coach Greg Owens, Offensive Line Coach Jeff Offutt, Christian Perez, Brenda Perez, and Anibal Perez.  
On behalf of the Perez/Anaya family, Christian Perez thanked "the multitude of people who have helped us though this hard time or have had a positive effect on the life Isaac lived." Perez wrote, "He loved his family, his football team, his marching band and his countless friends…Isaac was one of the hardest working students I have ever had the honor of knowing…Isaac was always diligent in his work, whether it was caring for his animals, studying his playbook and schoolwork or doing a fantastic job at Whataburger. He was a pillar of morality in his community. He was always smiling, always laughing and always ready to help any person in need."
In His comments, Jeff Harris stated Perez modeled the very best that could be found in a student. Harris drew on the teachings of Jesus in the Sermon on the Mount to note that Isaac was one who when asked to carry a burden one mile, he carried it two. Noting that Perez was a member of the National Honor Society while keeping a busy schedule of football, band, and work, Harris said that Perez was exceptional and had filled the dash between the date of his birth and the date of his death by living his life to the fullest and with excellence. Harris drew from the wisdom of Solomon that one should fill their life with the useful activities before them.
Apparent from the emotion of the memorial, Isaac Perez will not be forgotten by those who were shoulder to shoulder with him in the classroom, in the offensive line, in the marching band line, in the workplace, and, most of all, in the home.