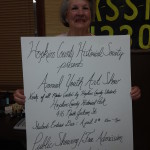 Entries for the Hopkins County Historical Society second annual Youth Art Show are due on April 8 in Heritage Park from 10 a.m until 5 p.m. The event is scheduled for April 10 from 10 a.m. until 5 p.m. and April 11 from 11 a.m. until 2 p.m. Susan McCary, on the board for the Historical Society, discussed this year's show on KSST's Good Morning Show with Enola Gay Thursday morning.
McCary calls the event a gift to the community and the youth of the community. There is no charge for youth to display their work and no charge to the public for entry into Heritage Park for the event. Art is a God-given talent that must be educated, formed, and trained through practice, practice, practice, according to McCary. She said this event is an encouragment saying that their work is appreciated.
Last year over 100 exhibits by students 7th grade through senior year of high school displaying their works. Those works included sculpture, mosaics, prints,  jewelry, ceramics, drawings in pencil and pen and ink, fabric pieces, acrylic, and water colors which were gorgeous according to McCary.
Local artists Jerry Lee and Mike Elliot have assisted and encouraged the Historical Society in organizing the show according to McCary
This year the event is open to not only Hopkins County students but to any student in the region.  Along with the entry form is a list of items that may be entered. Prizes will be awarded at the discretion of the judges. An entry form is avaiable by calling Susan McCary, 903-885-2244 or 903-439-7415 .