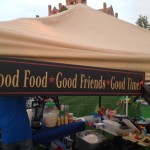 A number of events are scheduled for Celebration Plaza during the months of April and May. Shane Shepard, Community Development Director for the City of Sulphur Springs, says the "Red, White, and Brews" event May 23rd, Memorial Day Weekend, from noon until 4 p.m. should be a great success. The wine and beer festival will feature official Texas wines and Texas Craft beers. The wine vendors will be on the square. Currently there are eight wineries prepared to uncork their wines and as many of 15 are expected. Three Texas beers will be available at Bayou Jacks, Louviney Cellars and Bistro, and Muddy Jakes. A representative of each brewery will be at the restaurants as well. A Market event will be featured in the evening hours concluding the day at 10 p.m.
Saturday, April 25th is the date for the 2nd Annual Rotary Crawfish Boil "Claws for a Cause" on Main Street from 5 p.m. until 10 p.m. The all you can eat event is $25 in advance and $30 at the door. Tickets are available at local banks and area businesses. Proceeds from the event benefit local charities. Live music will be featured during the event. A number of out-of-towners are expected to present for the event, according to Shepard.
April 8th the morning Farmer's Markets will begin. The evening markets begin May 2nd with free movie night on the Plaza beginning May 1st.
Several tourism and development events will also include the city.