Deadline to order Chamber Banquet tickets is Friday!
Tickets are on sale NOW for the 89th Annual Chamber of Commerce Membership Banquet. It will be a relaxing casual evening of entertainment, great food and the recognition of some well-deserved businesses and individuals. The banquet will take place in the beautifully renovated Hopkins County Civic Center on Thursday, February 19th at 6:30pm. Tickets are $25 each. This year, if you would like to reserve a table for 10, you may do so for $300. These will be the only reserved seats…all other seating will be first come/first served. Reservation deadline is February 13th! For more information or to purchase your tickets please call 903-885-6515.
Della-Ramirez Bail Bonds Grand Opening
Thank you to everyone who attended the ribbon cutting for Della-Ramirez Bail Bonds. Guests were treated to a full spread including fruit, veggies, meat and crackers, punch and a delicious cake! Guests were also blessed with a beautiful song from Della. Their office is located at 1013 Gilmer Street in Sulphur Springs. For more information, please call Della or David at 903-885-4440.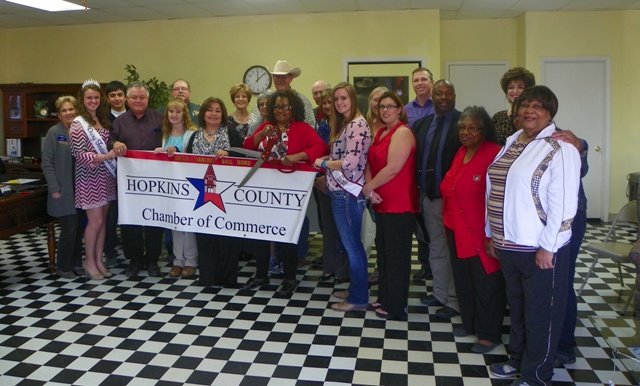 Pioneer Café's "A Little Taste of Romance Candlelight Dinner", Valentine's Day
It's a special evening at Pioneer Café for Valentine's Day. They will be open for 2 different seatings, 5:30 and 7:30. Dinner includes an appetizer (shrimp cocktail or seafood bisque), Salad (strawberry spinach salad or garden salad), Entrée (Prime Rib or Grilled Pork Chop) and Dessert (Sea Salt Caramel Cheesecake or Bread Pudding). Everything includes bread, soft drinks, tea, coffee and you may bring your own wine. For more information, please call 903-885-7773.
A Formal Affair 2015, Civic Center Exhibit Hall, Sunday, February, 22, 2015 from 1–5 p.m.
It's a Bridal, Prom and Quinceanera Expo. Brides get in for free. It's $5.00 per person at the door. There will be a dress give-away. For more information call 903-885-8071.
Pilot Club Spring Brunch, Saturday, February 28th from 10-Noon
The Pilot Club of Sulphur Springs is hosting their annual spring brunch, silent auction and raffle. The speaker this year is Deb Hays. She is a lawyer from Granger, Indiana and is the former executive director of Pilot International. For more information please call Debra Evans at 903-348-2632 or Linda Henton at 903-348-6576. The event will take place at First United Methodist Church in Sulphur Springs.
Attention all Bicyclists…Spring Fever Bike Rally will take place in SS, March 14th!
Mark your calendars NOW for the Spring Fever Bike Rally sponsored by the Hopkins County Chamber of Commerce. Bikers will have the opportunity to ride in one of 4 rides…10 miles, 27 miles, 37 miles or 60 miles. The ride will be through some of our beautiful East Texas communities on Saturday, March 14th! Registration forms are available NOW. The ride is only $30 if you register before March 7th and $35 after that. For more information, please call the Chamber at 903-885-6515 or you may register online at www.sulphursprings-tx.com/events.
Dentistry from the Heart, Saturday, April 17th!
April 17th, Sulphur Springs area dentists, oral surgeons, dental hygienists, dental assistants, dental office assistants, area businesses and volunteer support are all coming together to bring dental care to those in need, right here in our community. Every year, individual dentists and practices across the country donate their time and resources to host this event! We are very fortunate to have our local dentists do this in Hopkins County. For more information you may visit www.dentistryfromtheheart.org. We will include the details as we receive them!
Della-Ramirez Bail Bonds, 1013 Gilmer Suite D, Della Robinson Cleveland, Bail Bonds 903-885-4440
Price Liquid Feeds, 900 FM 36 North, Greenville, Ronnie Price Liquid Protein for Cattle903-513-4006
Kathy's Old Fashioned Homemade Ice Cream 900 FM 36 North, Greenville, Kathy Price
Homemade Ice Cream 903-513-4006
D n D Tee Shirt Company P. O. Box 842 Screen Printing/Embroidery 903-243-5755
Bright Star League of Cultural Arts, 220 Connally, Pamela Elliott, Representative-All Arts 903-439-8753
Double C Bail Bonds, 201 E. Houston, Ste. 5, Cindy Horton, Bail Bonds903-439-1213
Hibu , Adam Tanner, Area Manager, Phone Directories – On-line/Printed (Yellow Book) 903-810-8209
B. J. Teer, J.P. , 128K Jefferson Street, B. J. Teer, Justice of the Peace 903-438-4026
That's all for now…have a GREAT week!