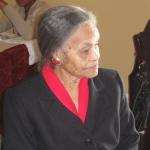 Funeral service for Modis Robinson McMillan, age 88, of Emory, will be held at 11:00 am, Wednesday, Dec. 17, 2014, at Emory Baptist Church. Rev. Willie R. Byrd will officiate. Burial will follow in Hopewell Cemetery. Visitation will be from 6:00-8:00 pm Tuesday evening at Wilson-Orwosky Funeral Home.
Mrs. McMillan died early Friday morning, Dec. 12, 2014, in Mesquite, at Willow Bend Nursing and Rehabilitation Center. She was born Dec. 13, 1925, in Emory, to Henry and Lucy Bridges Robinson. She married Alfred Cliftord McMillan, Sr., in Emory.
Mrs. McMillan was a housewife, and operator of A.C. McMillan African America Museum in Emory.
Left to cherish her memories: Sons: Alfred Clifton McMillan, Jr. of Emory and Harold Dale McMiillan of Austin, Daughter:  wendolyn McMillan Lawe (Theodore) of Dallas, Grandchildren: Yolanda Edwards, April McMillan, Stacye Hargrove, Sylvia Lawe Williams, and Hayes McMillan, Great-grandchildren: Mechelle Edwards, Mitchell Edwards, II, Taylor McMillan, Timothy McMillan, Preston Lawe, Blair Williams, Sydney Hargrove, Aaron Hargrove, and William Hargrove.
She was preceded in death by: parents; and all of her siblings: Elma Hobbs, Virgie Potter, Lonnie Robinson, Loda Kendrick, Gletha Davis, Ozell Robinson, Lorenza Robinson, and Choycie Robinson, Great-grandchild: Mitchell Edwards, III.
Funeral arrangements are under the direction of Wilson-Orwosky Funeral Home.