Friday morning the Memorial Hospital management staff hosted, cooked and served an employee appreciation breakfast for all hospital and clinic employees. According to Sherry Moore, Director of Marketing/Managed Care/Volunteers approximately 290 hospital employees attended and enjoyed the event. While the number of employees was approximate the amount of food prepared was not. The staff prepared:
240                  Hash browns patties
55 lbs.             Scrambled Eggs
227 ea.            Fried Eggs
440 ea.            Biscuits
156 servings    Gravy
60 lbs.              Bacon
24 lbs.              Sausage
20 lbs.              Ham
15 pots            Coffee
150 cartons     Chocolate Milk (half pints)
24   cartons     Skim Milk (half pints)
40 cartons       Whole Milk (half pints)
108 cartons     Orange Juice
46   cartons     Apple Juice
70  cartons      Cran Grape Juice
The food was good, the happy holiday mood was infectious, a good time was had by all in attendance.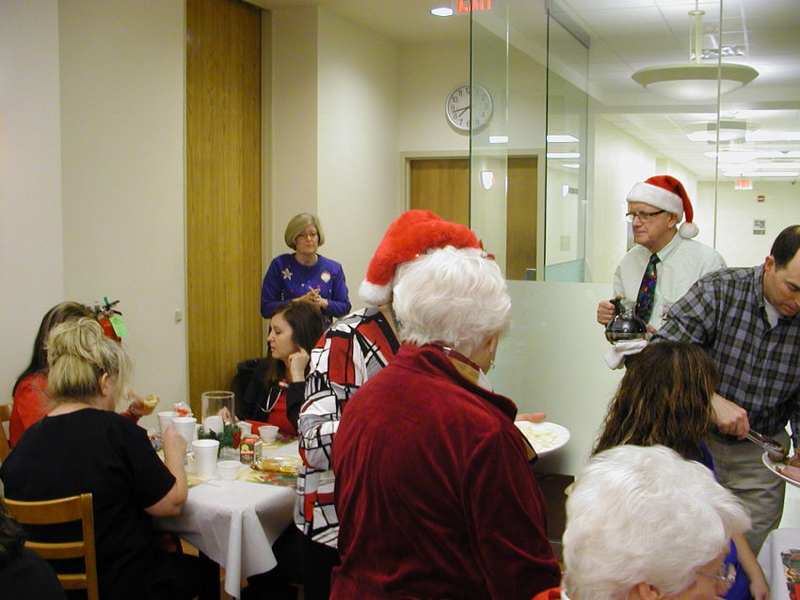 CFO Donna Wallace in the background, CEO Michael McAndrew with the coffee pot on the right.