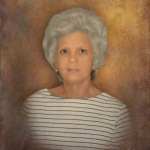 Funeral service for Carolyn Kay Hill, 69, of Sulphur Springs, will be held at 10:00 a.m., Monday, December 22, 2014 at West Oaks Funeral Home Chapel with Rev. Doug Holt and Rev. Tracy Coker officiating. Interment will follow at Restlawn Memorial Park with Mark Friddle, Jefrey McGarity, Jason Forbes, Rodney Forbes, Bryan Daffron, John Wiler, and Caleb Melton serving as pallbearers.
Visitation will be held from 6:00 to 8:00 p.m., Sunday, December 21, 2014 at West Oaks Fuenral Home.
Mrs. Hill passed away on Wednesday, December 17, 2014 at her residence. She was born on March 10, 1945 in Sulphur Springs, TX, the daughter of Bill and Joyce Phillips King. She worked for Tyco Medical for many years and was a member of the Assemblies of God.
She is survived by sons, Michael Coker, Jerry Coker, Kerry Coker of Sulphur Springs, grandchildren, Nathan Coker, Ashley Coker, Justin Coker, Matthew Coker, Chris Sloan, Kenneth Sloan, Melissa Sloan, Dillon Hobbs, three great-grandchildren, brother, Bill King, Jr. of Sulphur Springs, sisters, Janie Rodgers, Sue Taylor, both of Sulphur Springs, Patsy McGuffey of Garland, and many nieces and nephews. She was preceded in death by sons, Freddy Sloan and Tony Hobbs, sisters, Linda Lumpkin, and Jimmie Stonaker.
Arrangements are under the direction of West Oaks Funeral Home. www.westoaksfuneralhome.com