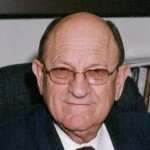 "He followed the Golden Rule. Forgiveness and love for people were the hallmarks of his life," said son Gregg Price. "He was a great guy. He was a good guy for which to work. He knew everyone and would say good morning to everyone in the showroom whether employee or customer. He liked to sell cars and did so everywhere he went," stated Bill Owens, who worked for Price Ford.
Price's childhood home was located in the Gafford's Chapel community where he would later own a dairy farm. Prior to entering the dairy business, Price began his young adult years when he left Sulphur Springs, moving to Dallas, working as a butcher at Safeway. While in Dallas, he married Betty Hendricks on March 7, 1953. He entered sales moving to Marshall, Texas to work for the Liggett Group and was later transferred to Shreveport.
In 1962, Bobby partnered with his brother Frankie in the ownership of a Ford dealership in Mt Vernon which they later sold and purchased the Sulphur Springs dealership.
Bobby and his brother were named Hopkins County Citizen of the Year the same year.
Funeral services for Bobby Price, age 79 of Sulphur Springs, will be held 11:00 a.m., Tuesday, December 2, 2014 at First United Methodist Church with Rev. Leo Weisniski and Rev. Dean Libby officiating.  Larry Brown, Bob Gideon, LaRoyce McDaniel, Bernie Beers, Ronnie Parris, Mark Spencer, Daniel Roper and Bryan White serving as pallbearers.  Honorary pallbearers are Gaither Day, Laddie Filak, Don Deaton, Charles Darr, Debbie Nixon, Wilbert Roland, Doyle Wood, Joe Ardis, Harris Ardis and Truman Wilkerson. Visitation will be held at 10:00 a.m., prior to the service at the church.
Mr. Price passed away Saturday, November 29, 2014 at Hopkins County Memorial Hospital. He was born December 25, 1934 in Sulphur Springs, TX, the son of Frank and Gladys Garrett Price.  He married Betty Hendricks on March 7, 1953 in Sulphur Springs.  She preceded him in death in 2011.  He was the retired owner of Price Ford Lincoln Mercury and a member of the First United Methodist Church and served in the National Guard.
Survivors include: son, Gregg Price and wife, Debbie of Sulphur Springs; daughter, Vicki Thomas of Rockwall; grandchildren, Jaclyn Thomas, Annie Thomas, Natalie White and husband, Bryan and Abbey Roper and husband, Daniel; great-grandchildren, Mason Greggory White, Charles James White, Hannah Rose Roper and Jack Hodges Roper and; sister, Vera Harrington of Sulphur Springs and longtime faithful friend, care-taker, confidant, and adopted son, Buzzy Ivey.
Special appreciation to care-takers, LaWanda Rape, Rose Dial, Simone and all the staff at Wesley House.
He was preceded in death by his parents; wife, Betty; brothers, Pizzini and Frankie Price; sisters, Marie Jones and Odessa Baxter.