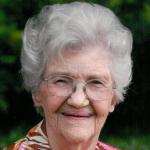 With family at her side, Ada Christine Jennings passed away peacefully on Friday, October 31, 2014.
Christine was born on May 30, 1919, the daughter of Thomas Oscar "T.O." and Bertha Lou (McDonald) Jennings in Reilly Springs.  She married Travis Merle Jennings on June 16, 1937 in the Rockdale Community.  He preceded her in death on April 13, 1996.
She is survived by her son, Thomas Mack Jennings of Sulphur Springs; brothers, Jimmy D. Jenkins of Dallas and Kenneth Jenkins of Sulphur Springs; sister, Jo Ann Venable of Mesquite; grandchildren, Marci Owens of Sulphur Springs, Nanci Jennings of Fayette Co., TN, Amy Dillard of Ft. Worth, Kelley Jennings of Big Sandy, Allison Brownlee of Tupelo, MS; eight precious great-grandchildren; a host of treasured nieces and nephews and special daughters, Janie Luster of Bett, MS and JoAnn Reston of Big Sandy.
She was preceded in death by her parents; husband; one son, Gary Jennings; one sister, Gerine Jenkins and three brothers, Donald Jenkins, Dale Jenkins and Billy Jenkins.
Per her wishes there will be no formal visitation or service.  The family will gather at a later date for a celebration of her life.  Memorials may be made to Cypress Basin Hospice, 207 Morgan St., Mt. Pleasant, Texas  75455.
The online register can be signed at: www.murrayorwosky.com