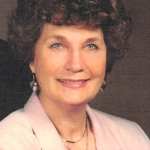 Surrounded by adoring family, Kathryn (Katy) Gulley, of Sulphur Springs, Texas, joined her gracious Heavenly Father and Lord and Savior Jesus Christ on November 17, 2014 at the age of 84. She was born in Bronte, Texas on May 3, 1930, the daughter of Bill and Evaline Wrinkle. While in High School in Bronte, Texas, she was voted class favorite, most beautiful, and a cheerleader. She participated in volleyball, basketball, track, and drama. After being introduced by mutual friends at the age of 18, she married David (Dave) Gulley from the neighboring town of Norton, Texas on February 10, 1949. They celebrated 65 years of marriage this year.
Upon moving to Sulphur Springs, Texas from Eunice, New Mexico in 1965, she worked as a receptionist for Pargas Propane and she was the pastoral secretary for both Richard Jackson and Charles Killough at First Baptist Church. She later became the driver's license clerk at the Department of Public Safety. Often times she would be approached by people in town who said, "I know you! You are the sweet lady who took my picture for my driver's license!" She was an active member of the First Baptist Church of Sulphur Springs for 49 years. She was a member of the Unity Sunday School class led by Ann Gregg. She was a talented cook, seamstress, and quilter. She always supported her kids, grandkids, and great-grandkids in all of their school and sporting events, as well as, their extracurricular activities. Her desire was to not miss anything anyone was involved in and she accomplished just that! She enjoyed collecting Depression glassware, spending time at the lakehouse, and trailer trips to shop at Canton Tradedays with her girls. Her claim to fame, however, was being voted "Mother of the Year", as well as, "Grammer of the Year" by her blessed family. What an amazingly talented and gifted lady full of love and grace!
She is survived by her husband of 65 years, Dave Gulley, 3 children and their spouses including David Gulley Jr. and wife Linda of Sulphur Springs, Susan Moore and husband Doug of Sulphur Springs, and Jeff Gulley and wife Connie of Whitehouse, Texas, and 5 grandchildren including Kori Reed and Shane of Sulphur Springs, Amy Cagle and Will of Tyler, Texas, Steve Moore of Sulphur Springs, Stacy Moore and Brannon of Sulphur Springs, and Reid Gulley of Stephenville, Texas. She was blessed with 6 great-grandchildren, including 2 sets of boy-girl twins, Jaci Reed, Maverick Moore, Jolea Moore, Jett Moore, Cole Cagle, and Libby Cagle. They have all been blessed by God to call her family, friend, mentor, witness, and Godly example by which to model their own lives. She leaves quite a legacy for her family. She was preceded in death by her parents, Bill and Evaline Wrinkle, and 2 brothers, Bob and Willie Ray Wrinkle.
Family visitation to honor her life will be from 6:00-8:00 pm at West Oak Funeral Home on Wednesday, Nov. 19, 2014. Funeral Services will be held on Thursday, November 20, 2014 at 2:00pm in the sanctuary of First Baptist Church with Pastor Mark Bryant and Rev. Fred Lewis officiating. Interment will follow at Restlawn Memorial Cemetery. Pallbearers will include grandsons Steve Moore and Reid Gulley, grandson-in-laws Brannon Moore, Will Cagle, and Shane Reed, as well as, friends Gene White, Jimmy Price, and Johnny Caruthers. Honorary pallbearers are nephews Kerry Wrinkle and Jim Gulley, Mike Bowman, Ronnie Nix, Reggie Hill, as well as, the Unity Sunday School class of First Baptist Church led by Ann Gregg and the Hopkins County Military Coalition.
Memorials in her name may be made to the Hopkins County Military Coalition or First Baptist Church of Sulphur Springs.