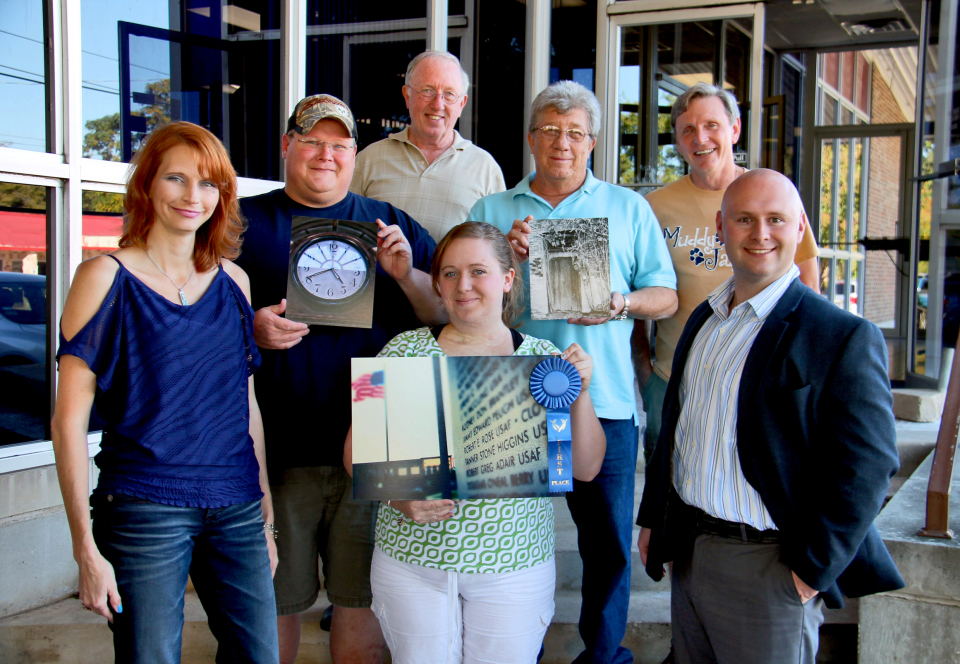 Sulphur Springs Worldwide Photo Walk fifth year winners were (front) First Place Malorie Padron receiving a $50 gift certificate to Texas Art & Frame, (right middle) Second Place Mike Watson receiving a monopod donated by The Appliance Hospital owner Perry Altenbaumer (top middle), (left middle) Third Place Andy Pendleton was presented a $25 gift certificate to Muddy Jake's Sports Grille and Pub by Manager Lonnie Fox (back right). Fox and Altenbaumer represented the Sulphur Springs Downtown Business Alliance, sponsors of the Photo Walk. This year's Co-Leaders were Cooper Review Editor Cindy Roller (front far left) and News-Telegram Photographer Jon Lance (front far right).
Staff photo by Luis Noble
Taking the First Place ribbon was fifth-year participant photographer Malorie Padron of Sulphur Springs with her entry highlighting the Hopkins County Veterans Memorial and America flag flown over Celebration Plaza. Padron said she usually uses her Canon EOS 35mm camera but this year she used her cell phone camera.
Second Place went to Mike Watson of Sulphur Springs with his black and white image of an old door hidden in the alley off Main Street. This was also Watson's first time to walk in Sulphur Springs and his camera of choice was Canon 7D. He wins a monopod with phone holder donated by The Appliance Hospital.
Third Place ribbon went to a repeat winner Andy Pendleton of Dike with his carefully aligned photo of the arched window shadow on a vintage clock in the courtroom of the newly renovated City Hall. Pendleton used a digital Canon EOS for his entry. Pendleton was presented a $25 gift certificate to Muddy Jake's Sports Grill and Pub.