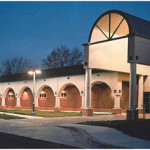 Sulphur Springs Public Library Launches Digital eBooks, Audiobooks, Music and Video AND an iPad Holiday Giveaway! Best-selling and classic titles available anytime, anywhere.
(Sulphur Springs, TX) – November1, 2014 – Sulphur Springs Public Library has expanded its services with eBooks, audiobooks, music, and video available to enjoy from the library's website. Library card holders can borrow popular digital media anytime, anywhere.
Users may browse the library's website, borrow titles with a valid library card, and enjoy on all major computers and devices, including iPhone®, iPad®, Nook®, Android™ phones and tablets, and Kindle®. eBooks can be read immediately on any device with an internet browser and all titles will automatically expire at the end of the lending period. There are no late fees!
This new service, powered by OverDrive, is free for users with a library card. To get started enjoying eBooks, audiobooks and more, visit www.sslibrary.org.
About OverDrive
OverDrive is a leading multichannel digital distributor of eBooks, digital audiobooks, music and video. We supply a secure lending platform for 22,000 libraries, schools and retailers worldwide with support for all major computers and devices. OverDrive has been named to the EContent 100 as a company that matters most in the digital content industry and is a member of the 2012 Technology Fast 500. Founded in 1986, OverDrive is based in Cleveland.
***In celebration of our new eBook and audio book database, The Friends of the Library and Sulphur Springs Public Library are sponsoring an IPAD HOLIDAY GIVEAWAY. This contest begins November 1 and runs through November 26 and one lucky library cardholder will win a brand new iPad. All you have to do is checkout a book or audio book in November to be entered. That's it! So check out and read in November and you could be reading an iPad in December! Call the library for more information 903-885-4926.