Jim Boggs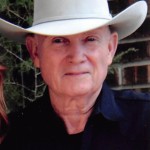 Jim Boggs, of Sulphur Springs, Texas, was a great man of Character. He was dearly loved by his wife, Deanna, and three daughters: Tonya and husband Brad Bradford, Beverly Blair, and Patricia and husband Clay Danley. His seven grandchildren, Adrian and husband Shiloh Childress, Clint Bradford, Jeremiah and wife Magan Bradford, Bailey and Braden Blair, Makenzie and Carson Danley, and five great-grandchildren to whom he was affectionately known as Papaw. Hard work and generosity characterized this strong and loving father, grandfather, husband, brother, and son. He was born on June 23, 1944 and was preceded in death by his father, James R. Boggs, and is survived by his mother, Pauline Boggs, brothers and sisters.
He wasn't afraid of hard work and was always a busy man. He worked for Texas Utilities and R K Hall Construction and enjoyed driving trucks, hauling hay, riding horses, and working cattle. His humility, integrity, and hard hard work will continue to inspire those who knew and loved him.
Services will be held at Pickton United Methodist Church at 2:00 p.m., on Wednesday, June 18th, with visitation beginning at 1:00 p.m. Burial will follow at New Pickton Cemetery with Clint Bradford, Jeremiah Bradford, Shiloh Childress, Carson Danley, Braden Blair and Jamie White serving as pallbearers. Honorary pallbearers are RK Hall Construction. Memorials may be made to Pickton United Methodist Church.
Arrangements are under the direction of West Oaks Funeral Home. www.westoaksfuneralhome.com